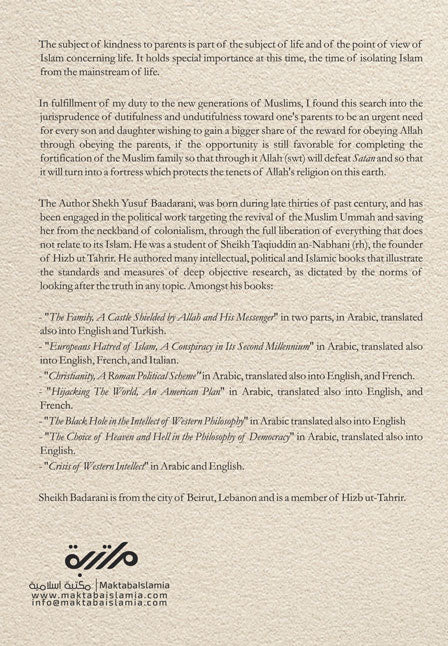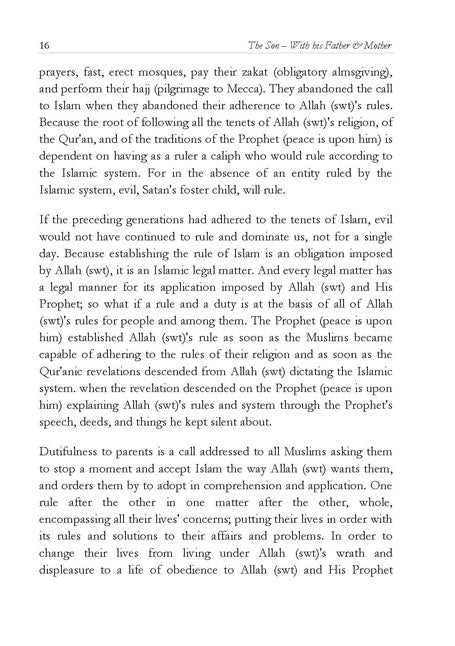 The Son: With his Father & Mother
Yusuf Baadarani
Paperback, 154 Pages, 1st Edition
13.8 x 21 cm
MaktabaIslamia Publications
The subject of kindness to parents is part of the subject of life and of the point of view of Islam concerning life. It holds special importance at this time, the time of isolating Islam from the mainstream of life.
In fulfillment of my duty to the new generations of Muslims, I found this search into the jurisprudence of dutifulness and undutifulness toward one's parents to be an urgent need for every son and daughter wishing to gain a bigger share of the reward for obeying Allah through obeying the parents, if the opportunity is still favorable for completing the fortification of the Muslim family so that through it Allah will defeat Satan and so that it will turn into a fortress which protects the tenets of Allah's religion on this earth.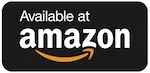 This book is also available on other websites, in case you cannot find it on the above link, we recommend you search on the internet as well.